A mixed green salad with strawberries and grilled manouri as greek as Thessaly and Ayia… with the grilled manouri and strawberries of the area.
Tempting as it is healthy and quick in the making.
For us here at YIAM, a mixed salad with grilled manouri cheese is really a full and hearty meal, especially on a hot day.
The wonderful thessalian manouri cheese together with the sweet and sour strawberries just add so much to this rather simple but oh so tasty salad…
Try it and it might become your favorite.
Ingredients for 2
One green curly lettuce
One red curly lettuce, OR other similar greens of your choice
One tomato
3-4 tbsp of YIAM strawberries in balsamic vinegar
One full  YIAM jar of grilled manouri
A few drops of Ohmommy by Cokos YIAM liquid salt
50 gr. cracked walnuts
1/2 cup fresh basil
6 tbsp extra virgin olive oil from the jar of grilled manouri
Freshly ground pepper.
Salt
Oregano
Preparation
Very thoroughly wash the greens and shred by hand.
Serve in a bowl and add the grilled manouri.
Dress with a few spoonfuls of the sweet and sour strawberries.
Crack the walnuts by hand and add, together with the fresh basil.
Season with a few drops of the ohmommy by Cokos liquid salt, oregano and the extra virgin oil oil that preserved the grilled manouri.
Turn over to mix well and let your forks loose…!
This simple and filling mixed salad with strawberries and grilled manouri  sweet and sour salad will be enjoyed even more with a nice and fruity white wine.
As a side dish it is perfect for meat in red sauce or roasts and grills.
This is truly a multi-role salad to fall in love with…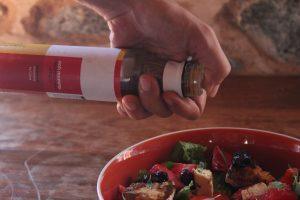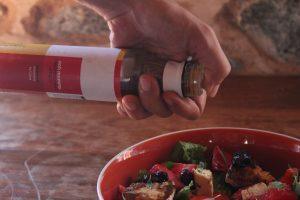 Enjoy it with a classic red Cabernet wine from Manolidis Winery