This potato ragout with sun-dried baby tomato pesto is an easy to loved taste for everybody.
Potatoes are children's favourites and the tomato sauce will only make them more so.
This is also a quick and light meal for dinner, a favourite old classic we all love.
It has always been a standard side dish in family get together… a large platter in the middle of the table, the potato ragout decorated with juicy large olives and its flavour whetting the appetites.
Next to it, the side dish to the side dish, feta cheese drizzled with olive oil and oregano and fresh home made sourdough bread.
For four servings
1 kg potatoes cut in large pieces
2 medium size onions coarsely cut
1/2 cup olive oil
1 jar YIAM Baby sun-dried tomato pesto with oregano
1/4 cup lemon juice
1/2 cup finely chopped parsley
Salt
Freshly ground black pepper
Olives of your choice
Oregano.
Preparation.
Peel and cut the potatoes in large pieces.
In a large pot, heat the olive oil and sautee the onions until shiny.
Empty the contents of the jar of sun-dried baby tomato pesto and add the potatoes.
Let simmer with minimal water until the potatoes are soft and the sauce thickens.
Add the lemon juice, salt and pepper and the olives.
Let simmer a few more minutes.
Serve in a large platter, decorate with finely chopped parsley and place at the center of the table.
On the side, your favorite feta cheese, fresh sourdough bread and extra olives.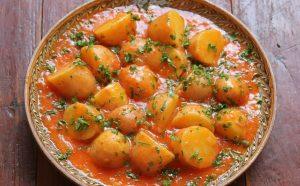 Perfect companion potato ragout with sun-dried baby tomato pesto with a nice rose wine from Manolidis Winery