It is not yet a salad. It is the fresh green salad with grilled manouri and pine nuts. It is the surprise salad.
It is a salad that when it comes out on the table even before they try it, everyone will be left with their mouths open.
Only from the appearance !!!
The salad that will impress everyone.
So you display the salad with the grilled manouri and the pine nuts and wait for the reactions of the company.
The bravest will not be able to wait for the serving and will grab the upper pieces from the manouri.
And then you will see it in their eyes and you will hear their exclamations.
Indeed, this salad with grilled manouri and pine nuts is divine!
So here we give you the recipe for success…
To serve 4
1 bunch of rocket
Various green vegetables (lettuce, endives, spinach leaves, lola rosa) well washed and dried
1/2 bunch parsley
1 jar of yiam grilled manouri cheese
3 teaspoons pine nuts
2 tbsp. from a jar of pate green olives with almonds and thyme
Juice and zest of an orange
2 tablespoons balsamic vinegar
1/4 cup extra virgin olive oil
Salt
Pepper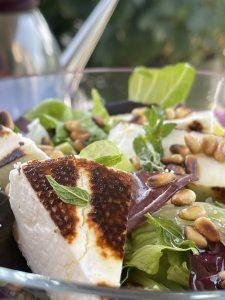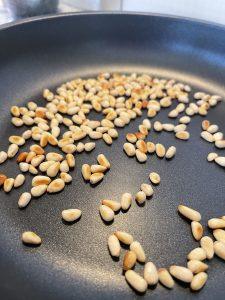 Preparation
Heat a non-stick pan and sauté the pine nuts with great care until lightly browned and release their aromas.
Wash all the vegetables well and leave them in a colander to dry.
Put all the chopped green vegetables in a bowl.
Drain the extra virgin olive oil from the manouri and cut it into smaller pieces.
Add it to the salad, as well as the pine nuts and stir to go everywhere.
Mix in a jar the extra virgin olive oil with the juice and zest of the orange, the pate from the green olives, the two spoons of balsamic vinegar, a little salt and the pepper.
Drizzle with the sauce you made the salads, stir and serve.
You have the perfect fresh green salad with grilled manouri…
Fits perfectly with a white Chardonnay from Manolidis Winery
Good appetite